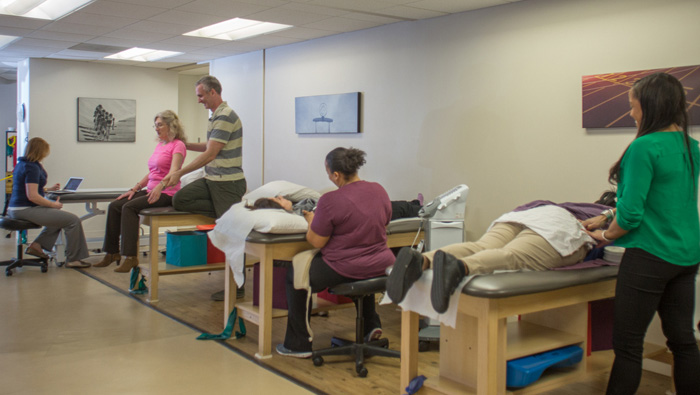 Our modern facility is properly equipped to provide our clients with a number of services:
Physical Therapy
We first and foremost are an outstanding physical therapy clinic. All of our therapists are graduates of elite national physical therapy programs. Our therapists on average have over twelve (12) years of full-time outpatient orthopedic experience.
To better serve you, our physical therapists have varying areas of interest and specialization. Please feel free to look at our individual therapist bios to see who might be a good fit for your needs. We cater to just about any diagnosis that is sports medicine or orthopedic based. In addition to orthopedic diagnoses, we are also adept at treating patients with neurological disorders (cerebral palsy, stroke).
Hand Therapy
We are happy to offer Certified Hand Therapist services to our patients. We are fully capable of providing custom made splints and casts as directed by your doctor. Learn more about our Hand Therapy.
Running Analysis
We are offer a comprehensive treadmill running analysis that takes into account cadence, foot strike, stride length, discrepancies in muscle strength, and deficiencies in joint ranges of motion. Learn more about our Running Analysis.
Functional Dry Needling (FDN)
FDN involves the insertion of tiny monofilament needles directly into muscle. The purpose of this is to release shortened bands and "Trigger points" that occur in strained muscle tissue. Learn more about our Functional Dry Needling.
Concussion Management
We offer a comprehensive Concussion Management Program that is individualized to the patient. Physical therapy will help recover balance, postural control, gaze stability, focus, gait and mood. Learn more about our Concussion Management.
Dance Rehabilitation
Kira Davis MPT is well versed on the unique physical requirements needed for dancers and is excited to get you back to doing what you love with specific therapeutic activities to enhance range of motion, strength, balance, and endurance. Learn more about our Dance Rehabilitation.
Custom Made Orthotics
In addition to our evaluations and physical therapy services, we also specialize in providing orthotics services to patients. Learn more about our Custom Made Orthotics.
Post Rehabilitative / Personal Training
Our personal training services aim to reduce incidences of injury during workouts by providing clients with an exercise regimen that is not only effective, but also safe. Learn more about our Post Rehabilitative & Personal Training Services.