It is commonly known that dancers do not have the nicest feet to look at. Despite their rough appearance, dancers do generally work quite hard to care for their feet. The most minor of foot issues could really deter their training or performance schedule, so proper maintenance is paramount.
Some major tips include (1) loving your calluses, (2) avoiding typical pedicures, and (2) proper strength and conditioning.
Loving Your Calluses
Calluses are areas of thickened skin that appear due to friction or increased pressure. A callus is built up over time. Calluses are tough and after some time can lose sensation, which can be very helpful for dancers. It is a natural protectant when having to dance barefoot or in pointe shoes. Once the calluses have formed and matured, pivoting and spinning on the feet is less painful, and there is a decreased likelihood of skin breakdown or blistering that will cause bleeding and pain.
Avoiding Typical Pedicures
Because calluses are so important to a dancer, the next tip is to avoid typical pedicures. Soaking the feet is relaxing and can sometimes come in handy to help relieve aches and pains, but regularly soaking your feet can soften a callus. For younger dancers that do not yet have mature calluses, soaking feet should be very infrequent and done for only short periods of time.
If a dancer does choose to get a pedicure, it is important to communicate with the nail technician that the calluses are to remain as is. Often times, I get weird looks when I bend down and point out the calluses that I want to remain as they are.
Nail technicians often use a metal foot scraper which can be fairly sharp in order to remove dead skin and calluses. The fact that the scraper is abrasive enough to remove calluses is problematic for dancers as you can also get injured if the metal foot scraper goes against non-callused skin. A good alternative to this portion of a pedicure is the use of a pumice stone. This will still smooth the feet to remove some dead skin, but the calluses will remain intact and there is no danger of getting cut.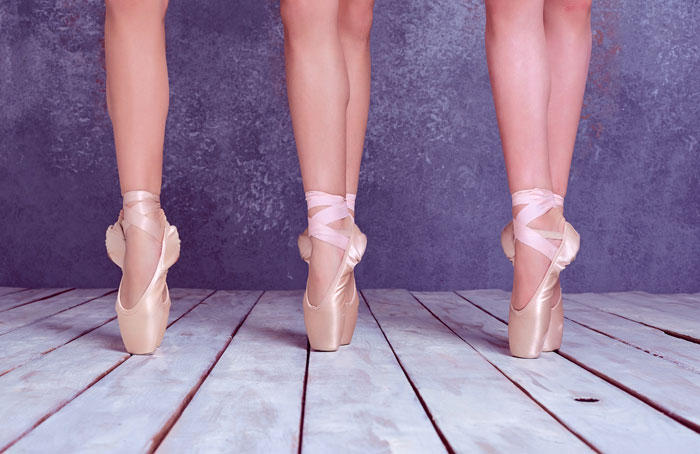 An experienced nail technician knows not to cut the nails too short and knows to cut them straight across. This will prevent ingrown toenails. However, when in a pedicure chair, this is something that a dancer needs to be sure that the nail technician is doing correctly. The risk of an improperly cut toenail seems minor, but that can cause a lot of future unnecessary pain and difficulty with training, rehearsals and performances.
Lastly, in regards to pedicures, be judicious about the nail color that you choose. If you know that you have regular toe issues, such as bruising, bleeding, toenail loss or nail cracking, it is best to not wear dark nail polish. This isn't a cardinal rule, but it is ideal to be able to easily monitor the health of the toenail, so wearing a lighter or clear color nail polish is advised. Darker polishes can be reserved for special occasions.
After all the diligence that is needed for trying to pamper yourself with a pedicure, it can become more mentally exhausting, and sometimes it's just better to do all of this work on your own.
Proper Strength & Conditioning
Proper strength and conditioning is also a major part of a dancer's foot care routine. Of course, technique classes help to strengthen the feet, but there are also things that a dancer can do independently to help prepare their feet for all the work that they have to do.
The use of resistance bands are often used for ankle strengthening as well as toe strengthening. Working on the dexterity of the toes is also useful for strengthening the small muscles of the foot. This can be done by picking up objects or trying to isolate individual toe movements.
Balancing on various surfaces on a flat foot as well as on the tip toes will help to strengthen and condition the foot in conjunction with improving balance. Dancers are constantly working on balance.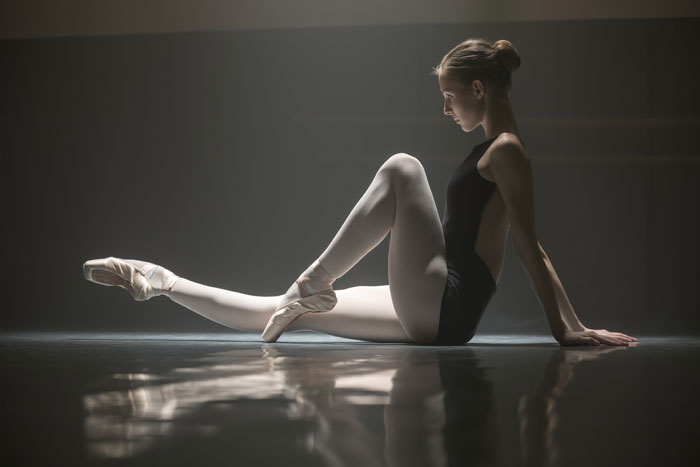 Lastly, dancers need to make sure that their foot muscles are free of knots and are loose enough to do their job effectively. Almost any dancer has some type of foot massaging contraption in their dance bag. The most basic would be a tennis ball, but you might see balls that have spikes and knobs on them. Some massaging tools are more of a wooden cylindrical shape. Dancers, of all styles, need to take the time on their own to strengthen and stretch their feet to prevent injury.
While the feet are not the only tool that a dancer uses, as dancers we greatly rely on our feet! It is imperative that a dancer takes time to care for and pay attention to their feet. If you have been noticing trouble with strength or flexibility in your feet and are not sure what to do, and you are located around the Washington, D.C. area, have your friendly physical therapist over at PhysioDC take a look at your mechanics to see what should be done. We'd love to get you back on your feet.