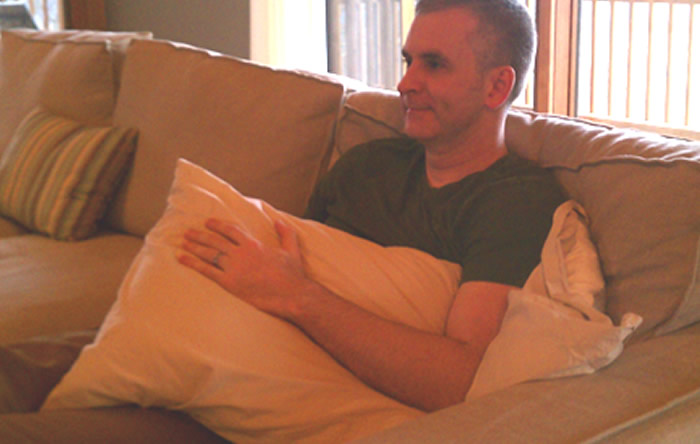 Rotator cuff repairs, labral repairs, acromioplasties, and shoulder replacement surgeries are performed on countless patients every day in the United States. Although rehabilitative protocols differ depending on the surgery, there is one common complaint shoulder patients have regardless of the type of surgery. Most patients are not equipped to deal with the pain associated with sleeping. The following is a list of ideas that our patients have compiled over the years that have helped to get them "over the hump" in terms of getting a good night's rest.
1. You may initially find it easier to sleep in a reclined position rather than lying flat on your back. There are two ways to do this. You can either bolster yourself from behind with pillows, or more preferably, sleep in a reclining "Lazy Boy" type of chair.
Over the years we have received hundreds of comments on what type of recliner works best in these circumstances. A potential problem that some people have run into is having the reclining side-lever on the same side as the surgical shoulder. One astute reader suggested placing a piece of PVC piping over the lever to create a longer arm to pull (easier to reach over and adjust). This in many cases has been effective.
The sure-fire way to avoid pulling a reclining bar is to have an electric control mechanism. We have a few patients and readers who found an infinite position powered recliner chair online. Although it may not fit everybody's sense of style, this chair (pictured above) is effective and comfortable.
It is also worth noting that as your sleeping comfort improves, it is worth slowly lowering your body down over time until you are back to a horizontal position. Many patients will have to sleep in a semi-reclined position for up to six weeks or longer following surgery. It is worth your while to plan ahead of time and borrow a recliner if you know that you will be having shoulder surgery.
2. Pharmaceuticals can be extremely helpful after shoulder surgery. What some patients do not realize is that different people react in different ways to different medications. If you are not getting any sleep secondary to pain with your current medication, ask your doctor if there are other options.
3. Many healthcare practitioners who deal with post-surgical shoulder rehab agree that placing a single pillow under the elbow and hand places the shoulder in a position that allows maximal blood flow to the rotator cuff tendons during sleep. The picture above shows such a position. It is even possible to do this while you are wearing your physician-prescribed shoulder sling.
4. Ask your doctor if it is acceptable to spend some time out of your shoulder sling every day. Shoulder slings are a necessary evil: they do indeed protect the shoulder from trauma while the patient is walking and performing daily tasks. The downside of the shoulder sling, however, is that it places the shoulder in an undesirable forward position that does not help with restoring normal mechanics. The longer a shoulder is kept forward in a sling, the harder it is to get the shoulder to rest in a normal position. This is yet another example of "form following function." As soon as your doctor allows you to stop using your shoulder sling, burn it.
The Breg Night Pillow for their Neutral Wedge (pictured above) will assist with maintaining proper shoulder position and may help you get a better night's sleep. View this on Amazon. Note that the product listed is strictly the Night Pillow; the brace is not included.