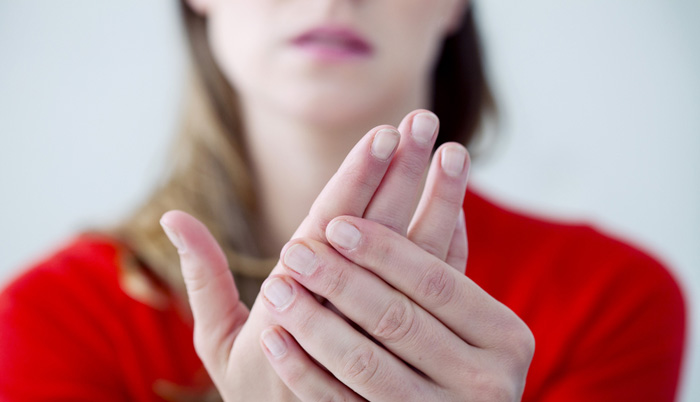 As a follow up to our previous article entitled "Why Are My Ring Finger and Pinky Finger Numb?" we thought that it would be worth addressing one of the other major nerves that innervates the hand, namely the median nerve.
The median nerve has sensory innervation to the tips of the thumb, index finger, and the middle finger. It also provides sensation to one-half of the ring finger (the side that is closer to the middle finger). Although the median nerve can become irritated at the level of the elbow like the ulnar nerve often does, it is more common to see stress on the median nerve at the wrist.
There is published research that suggests the median nerve can become chronically stressed when the wrist is either flexed or extended at more than twenty degrees for extended periods of time. Twenty degrees by the way is not that much movement. Below is a photo of a wrist that is flexed to roughly twenty degrees.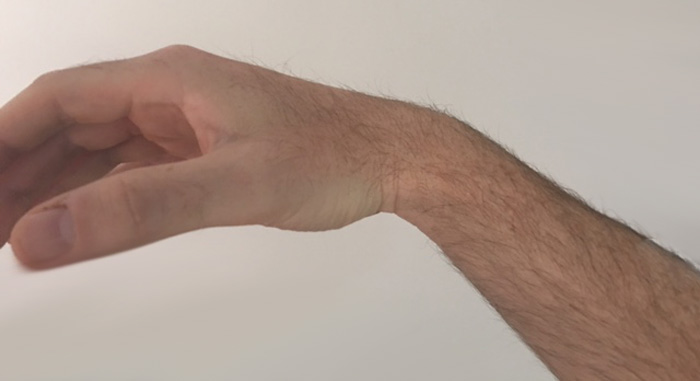 When do most of us keep our wrists flexed or extended at more than twenty degrees? The two most common culprits are most likely when we sleep and when we sit at a computer.
In order to deal with this problem most physical therapists will suggest the following:
1. Get an ergonomic evaluation of your computer set-up.
Many people nowadays work from both the office setting and from home, so it is a good idea to have both set-ups looked at. Many factors can influence the position of the wrist including keyboard height, desk height, and mouse position. In most cases it is a good idea to get a keyboard tray for a desktop computer setting.
2. Wear a comfortable wrist immobilizer when you sleep.
Patients will often unknowingly sleep for hours at a time with their wrists in the "fetal position" (heavily flexed). A soft brace can correct this and keep the wrists more neutral, and these braces can be purchased at your local drug store for an affordable price. As a therapist I do recommend trying on the brace before purchasing it. The brace should feel like it is not placing any pressure on the palm side of the wrist.