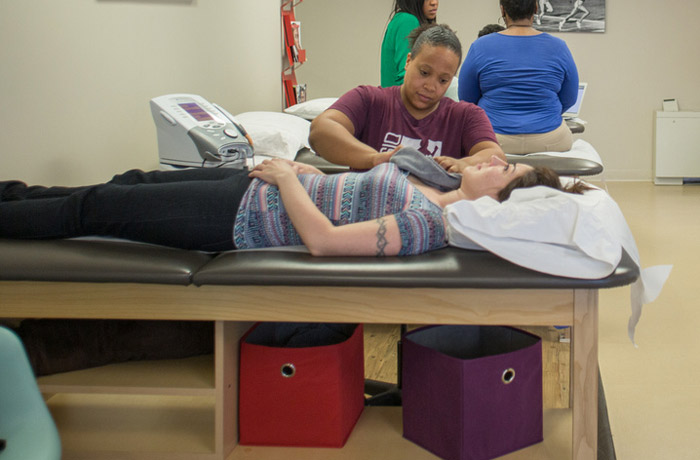 You've waited on dealing with an injury for quite some time, because you've heard the jokes about physical therapy that don't make it sound so appealing. "Don't you know that PT stands for pain and torture?"
Because of either pain or loss of function, you finally find yourself in physical therapy. What can you expect?
During the initial process at PhysioDC, you will see a licensed physical therapist. I will basically go over what seems like an interviewing process, trying to figure out how you've landed in my office.
History Intake
I will want to know if there has been some trauma and exactly how it happened, if you can recall the injury. Frequently people end up in the therapy office with no recollection of an injury (known by us PT's as "insidious onset"). In these cases, it is the therapist's job to figure out what happened and how it is affecting your symptoms. I do this by asking questions about your daily life:
If you're working, whether you work a sitting job or a standing job
If you exercise regularly, what kinds of exercises and how often
If you have small children that require regular lifting
If you have a dog that you walk, and whether that dog is small or large
These are just a small sample of potential areas of discussion. These little questions that seem like small talk really do give me clues on how to proceed.
One annoying yet important question that I will inevitably ask is, "What your pain level?" Medical professionals use a very simple scale. "0" means no pain, and "10" means the worst pain that you could ever imagine. This is a subjective scale. I know that your level 4 may be very different from what I perceive is a level 4. I also don't really need to know about your unusually high pain tolerance. It also doesn't amuse me when you say that you have a pain level of 15, yet you independently walked yourself into my treatment room, laughing and joking with the other patient that you just crossed paths with. Please just take a moment and think about what you are physically (not emotionally) feeling and answer accordingly so that I may begin to help you.
Examination
Now that I have your medical history and mechanism of injury, it is time to get your exam done. The exam includes observing posture and gait. I can unlock a lot of mysteries by just looking at how your body parts are positioned at rest, and how certain parts of your body move when walking or running. Next I will look at mobility by moving around different body parts and taking measurements. I will also test your strength by placing different body parts in various positions and applying pressure. Sometimes I may even break out a tape measure to get an idea of whether your injured area is swollen.
Soon enough, the therapist always tends to start poking and prodding on various parts of your body. Many patients think that I have some sort of sixth sense about where to touch in order to make it hurt the most. In actuality, the information that you give me during the history intake, and what I see with the strength testing gives me a lot of clues. I also like to check things like reflexes and some other sensory things like touch sensation and balance.
Plan of Care
Once I have figured out what your limitations are, we will set some goals regarding what you are hoping to achieve. Part of your plan will likely include homework. This is where being the team player comes in. When somebody is in physical therapy, they are usually only seen anywhere from one to three times per week, depending on the severity of the given problem. Physical therapists are amazing, but we are not unicorns. We are unable to wave our sparkly magic wand and make you miraculously healed with merely seeing you once per week.
The therapist will go over a series of homework with you. Notice I use the word homework instead of home exercises. Yes, exercises are very important, but sometimes avoidance of certain activities is also a part of the homework. Doing your specific quadriceps strengthening that I give you when you have a knee problem is just as important as not wearing those high heels or running when I ask you not to. The therapist should give you explicit instructions on what you should and shouldn't be doing.
Follow Up Visits
As mentioned earlier, people can be seen in PT as much as three times weekly or sometimes as little as once every other week. It really depends on the nature of the problem that is being treated. It is important for our patients to keep in mind that a PT office is not a recreational gym but a medical facility where one receives skilled care.
During the treatments sessions, I tend to catch up with you on how your symptoms have been since I've seen you last, and I will often ask how things are going with those homework activities. Sometimes office modalities such as hot packs, cold packs, ultrasound, or electrical stimulation will be used. Often times there will be manual therapy, which includes the therapist moving a limb or joint for stretching or to achieve greater ranges of motion. The therapist may also mobilize your soft tissue or muscles/tendons.
Lastly, the thing that is most recognizable in the physical therapy office is the therapeutic exercise that will take place. I will run patients through a routine of activities for strength, mobility, balance, or whatever is needed to address the impairments that are causing functional limitations. Every few weeks we will re-evaluate to make sure that the team (patient and therapist) is on the right track, and goals are getting closer to being achieved.
If you are dealing with a problem in regards to your orthopedic health, please seek medical advice from your doctor, but remember that physical therapy is always an option. PhysioDC will always be happy to help you with your orthopedic needs.