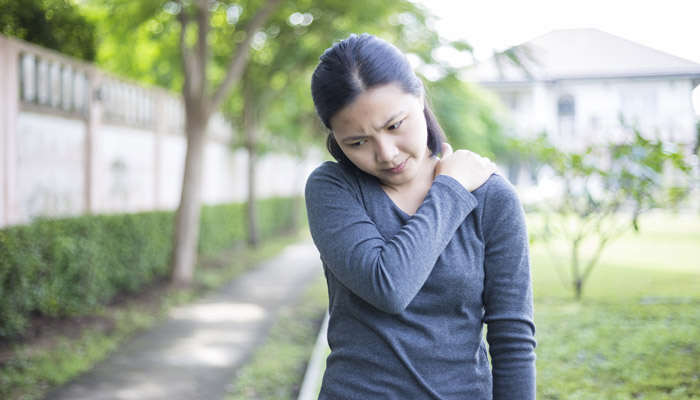 From personal experience I can attest that labral tears can hurt quite a bit. What we will be discussing today in this blog post are a few ways to differentiate between shoulder labral tear pain and pain associated with other shoulder problems.
For the sake of brevity, we have already described the basic anatomy of the shoulder labrum in another blog post (There is also a great illustration included.).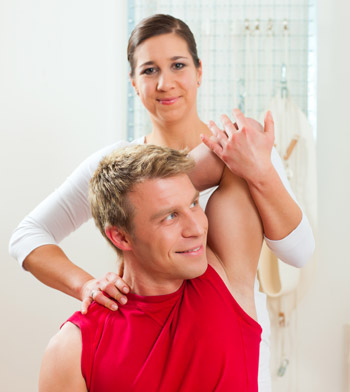 Here are some things that I have noticed from personal experience in regard to labral tears.
1. Placing my hands on my hips with the thumbs pointed backwards hurts on the side of the labral pathology. There is an orthopedic test that starts with the patient in this position and involves placing a resisting pressure on the back side of the arm. I am pretty sure that I would scream if asked to do this.
2. I can actually lift my arm overhead without pain. With a rotator cuff impingement, this is typically not the case. The rotator cuff tendons tend to make irritating contact with the shelf of the acromion with overhead lifting positions.
3. I have limited tolerance for sleeping on my side. This can be true with rotator cuff impingements and tendonitis as well, but these diagnoses tend to be bothered more by sleeping with the arm overhead. I have a difficult time sleeping on the affected side even when my arm is at my side.
4. Reaching motions that involve loading the arm are at times problematic. I can perform bench presses, lat pull-downs, or a "reverse fly" with weights over an exercise ball as long as I am smooth with my motion.
The other week I tried reaching under my sink to turn a valve off. The reaching motion combined with grabbing the knob caused a sudden wave of pain that made me lose strength in the arm and forced me to let my grip go.
Another incident that comes to mind involved an awkward reach out of my car window to retrieve a parking ticket from a dispenser. I was okay until I had to press the button to have the ticket printed out. Ouch!
5. I have noticed that my end-ranges for both external rotation and internal rotation are somewhat limited due to pain. When lying on my back and resting my arm out to the side, I cannot bring my arm into full rotation positions without significant pain (See photo above for an example of internal rotation). My shoulder can be passively moved into the full position, so it is pain that limits rather than a physical stiffness or restriction. This is a bit different from "adhesive capsulitis," a.k.a. frozen shoulders, in that the rotational end-ranges are physically stiff.
Read More About Shoulder Issues
• Managing Expectations When Recovering from a Labral Repair
• How Do I Stabilize an Unstable Shoulder?
• When Can I Start Working Out After Shoulder Surgery?
• How Do I Deal With A Shoulder Dislocation?
• Is Sleeping On My Side Bad For My Shoulder?
• Why Won't My Shoulder Rotate?