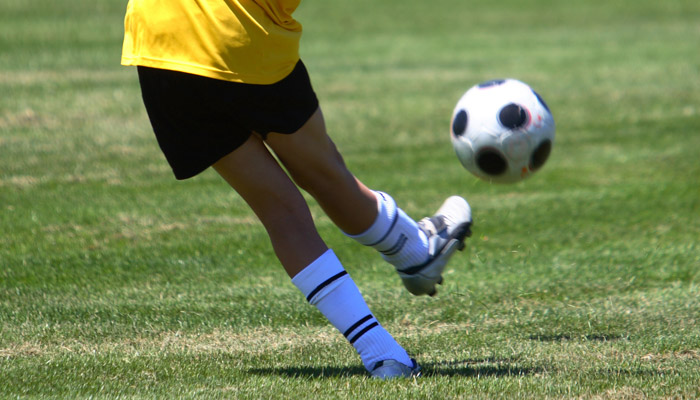 Most athletes, high-heel shoe addicts, and the chronically clumsy have encountered ankle sprains. The swelling and pain that result from turning one's ankle can last for months and be very limiting in the short term.
What most people do not address, however, are the long-term effects of ankle sprains. I have seen patients with lower back pain, hip bursitis, and knee pain that are a direct result of an ankle sprain that occurred years ago. There are also plenty of people who will re-sprain the same ankle because the original injury is not managed properly.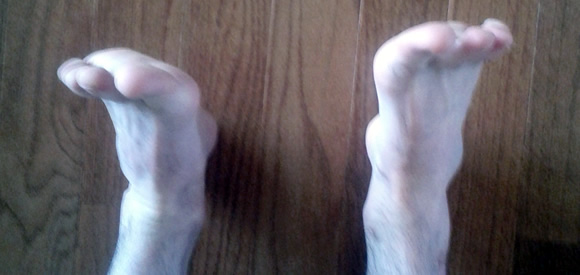 Here are two things to consider when dealing with even a mild ankle sprain.
1. Ankle sprains (and ankle fractures), if not treated, will result in a loss of "dorsiflexion," or flexing of the ankle. Take a look at the photo above where a patient was asked to flex the ankle as far as possible. It is subtle, but notice how the right ankle has lost a slight amount of this range of motion.
This loss of ankle motion will cause a slight change in how the body moves during walking. The gluteus maximus, or buttock muscles, on the sprained side will have a harder time contracting normally because the heel leaves the ground a fraction of a second earlier that it is supposed to. In order for the gluteus maximus to contract, solid heel contact is needed as a base.
2. Ligaments are similar to the plastic that surrounds a six-pack of beer. When ligaments are forcibly stretched out from a sprain, they do not go back to their original length. This makes it more likely that the same type of injury will re-occur, as the stretched out ligaments no longer provide the same physical support to the ankle.
It is also worth noting that ligaments send messages to the brain that serve to tell us what position our joints are in. Sprained ligaments no longer do this as efficiently as normal ligaments. Walking on an uneven surface or playing a sport becomes increasingly dangerous, because the brain is less efficient at telling our body how to make small adjustments to avoid re-spraining.
Rehabilitation of an ankle sprain should always address the two issues listed above. Ankle stretching into the lost range of motion of dorsiflexion is a good idea. (Ankle exercise #7: soleus stretch) In many cases it is also a good idea to have the ankle physically worked on by a professional in order to restore ideal joint motions.
It is also a great idea to perform single-legged balance training in order to strengthen the supporting muscles around the foot and ankle as well as to re-train the central nervous system to function with the ligaments at a new length. I always recommend that balance training be performed barefoot to more completely work all of the surrounding muscles. (See ankle exercise #4)
I also recommend that competitive athletes wear a lace-up style ankle brace to provide extra support. I have seen basketball and soccer players who will re-sprain despite proper rehabilitation if they do not take this extra preventative step. "Swede-O" is a company that makes satisfactory ankle stability braces.
Read next: Ankle Sprains and Hip Strength