iPhones and other handheld devices have "unlock" features that must be manually surpassed prior to usage. The iPhone in particular requires the sweeping motion of a finger across the bottom of the screen from left to right. Most people tend to hold the phone in the right hand and use the right thumb to make this sweeping motion.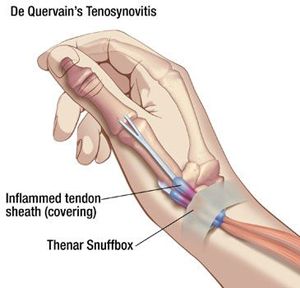 This motion may at first appear to be quite harmless, but repetitive motion can have serious long-term effects if performed dozens or even hundreds of times daily. Several tendons of the thumb pass through a compartment in the wrist that serves to keep the tendons in place as they are used. (See illustration)
Repetitive sweeping motions of the thumb over time can cause painful irritation in the above mentioned compartment from the repetitive movements of the tendons. The clinical term for this inflammation is De Quervain's Tenosynovitis. This affliction is most certainly more common now than in years past, especially among younger people.
Anyone who has pain in the outlined area should immediately stop the sweeping thumb motion associated with unlocking hand-held devices. Simple alternatives can involve either using the opposite hand, or using the index and middle fingers to perform unlocking functions.