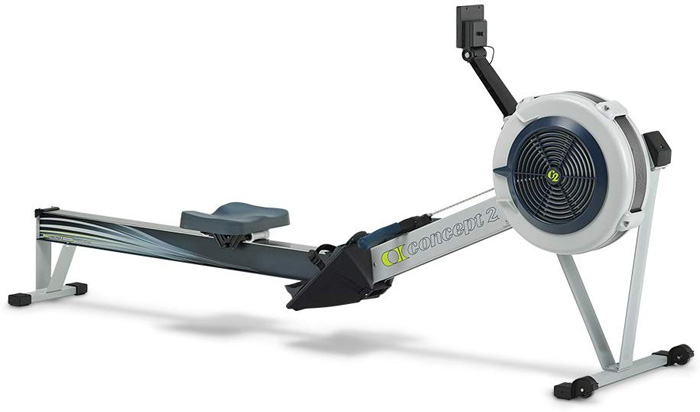 Personally, the most horrifying workout that I have experienced is the 2000 meter sprint using the Concept II indoor rowing machine. Even my friends who are Crossfit acolytes would rather do other grueling workouts than face the rower for a dreaded sprint trial.
The gold standard for an adult male being crowned an absolute "badass" on the rower is to be able to row 2000 meters in 7 minutes. The rowing machine is indeed a full body workout. The legs, the core, and the arms are all used in sequence to pull through the handlebar chain and thus create the power necessary to launch the seat backwards. Doing this for a minute is no big deal. Try doing this at full effort for 2000 meters and see how you feel.
The best way I can describe the effect this workout has on the body? How about feeling like you might vomit out your lungs while all of the muscles in your body are on fire. Now throw yourself down a set of stairs. Good times indeed.
A few years back I became fixated on the elusive 7 minute goal. I had to mentally prepare myself every day for the workout that I knew I was going to do that evening. It was psychologically vexing. I practiced for a few months. Interval workouts, long rows, and short sprints were all performed as part of my weekly regiment. I set a date when I would take the test. I watched elite rowers on Youtube and studied their form. These people were absolute beasts. Some of the highest-level people looked like they were ripping the machine to pieces as they rowed. Impressive indeed.
The date finally came. I thought about my impending task hours beforehand. I was adrenalized when it came time to perform. The test was grueling. I was on pace to break the 7 minute barrier well past the first half of the distance. My body started to fail during the last 500 meters. I made horrible sounds as I exhaled. My form started to break as I told myself to hang in there for a bit longer. Am I going into cardiac arrest?
The most frustrating thing was looking at the rower's display for the last 100 meters. With about 10 seconds left to go, I wasn't sure whether or not I was going to make it. When the 2000 meters were completed, I looked at the time on the display.
7:03
I lied on the floor for ten minutes recovering. Damn it.
The positive side of this whole story? I am in my forties and as the result of this training I was (arguably) in as good a shape as I was while running track in high school. I do think that it is a great idea to try something that puts you slightly outside of your comfort zone when it comes to exercise. Find an objective goal and use it as a motivational tool. Be safe about it and get guidance if necessary. At my age I don't think that I will be striving for that specific goal again, but I do still use my trusty rowing machine on a weekly basis to make my workouts more challenging.