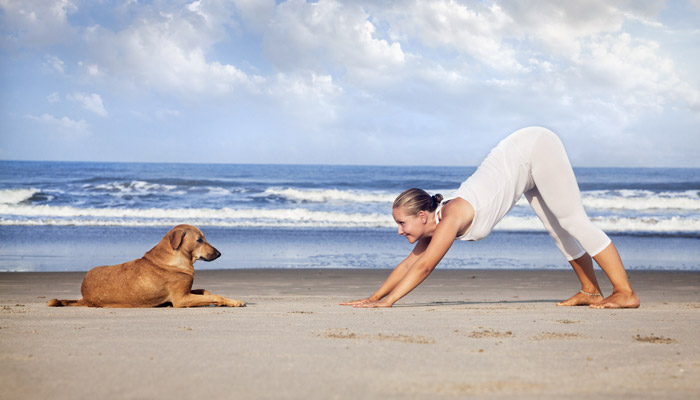 The bones and tendons of the arms are not anatomically equipped to bear the brunt of our weight. If they were, we would still be walking around on all fours. The yoga "downward facing dog" position places us "on all fours," placing abnormal stress on the tendons of the rotator cuff as the shoulder joints are placed in an extreme, flexed position (take a look at the pose!).
In order to understand the nature of the strain imposed on the rotator cuff tendons of the shoulder, it is necessary to understand a bit of shoulder anatomy. As seen in the illustration, there are two boney ridges on the head of the humerus, the lesser tubercle and the greater tubercle. These ridges often rub against the acromion that lies directly above them during specific activities such as downward dog. Rotator cuff tendons and the biceps tendon are also often irritated as they originate in this already cramped area.
If you are experiencing shoulder irritation from this yoga position, try rotating your hands outward slightly as they are placed on the floor. The outward rotation of the hands is accompanied by slight outward rotation of the head of the humerus. This rotation can partially clear the tubercles and tendons out of the way of the above-lying acromion.
Realize, however, that there is a limit to how much you can turn your hands out with a downward dog position before you are placing too much stress on the wrists. Try turning your hands out only slightly (10-30 degrees) and see if this lessens irritation.
This basic idea can be applied to numerous other activities that involve placing of the arms in an overhead position. If you are performing push-ups, bench presses, or military style presses with weights and encounter shoulder pain, try rotating the hands and shoulders slightly outward.