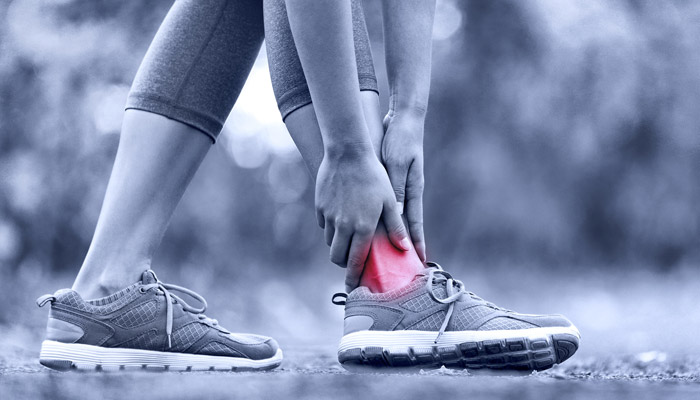 Many of us know someone who has suffered trauma to the ankle or foot (fractures, surgeries etc.) that requires the usage of a giant, cumbersome immobilization boot. Ankle boots are a necessary evil: They protect the joints and bones of the lower leg and allow for bones and soft tissues to heal.
The problem that I have with ankle boots has to do with how the patient is forced to stand and walk. To illustrate this concept, take a look at the photo of the pair of shoes a couple paragraphs below.
Can I convince you to walk in these shoes for six weeks? (A woman actually walked into our clinic wearing these shoes this year and had no idea as to why she was having lower back pain.) Wearing a surgical boot has the same effect on the body as wearing these shoes. The booted side will be considerably higher.
Many people will encounter secondary problems when forced to stand and walk in a non-symmetrical alignment that the boot causes. The lower back in particular can easily become irritated from unequal weight bearing and elevation of the pelvis on one side.
The simple solution is to build up the height of the unaffected side so that you are standing as level as possible. Some patients use a shoe with a thick sole. This can be effective, but one problem with this is that you must wear the same thick-soled shoe all of the time.
A more practical solution is to use a temporary heel lift on the short side. A heel lift can be transferred from shoe to shoe without difficulty. Heel lifts can be purchased quite easily online from medical supply catalogues or from a healthcare professional's office. Drugstores also have comfortable, cushioned inserts that can be placed into the shoe on the short side.
As a final note: make sure that you check out your alignment in a mirror to see if your pelvis is level once the lift is in place. If you cannot figure this out for yourself, have someone look at you from behind and see how the pelvis rests when you are standing.
The sad truth is that most doctors do not take the time to address this issue; thankfully, it can be dealt with easily!
The heel lift pictured on the right can be purchased on Amazon here.
We also recommend the Airex Balance Pad, which is great for ankle stabilization training. Use it for single leg balance, air squats, or as a way to cushion your knees while performing exercises in a kneeling position. The Airex Balance Pad can be purchased on Amazon here.
Continue reading with Ankle Sprains and Hip Strength.