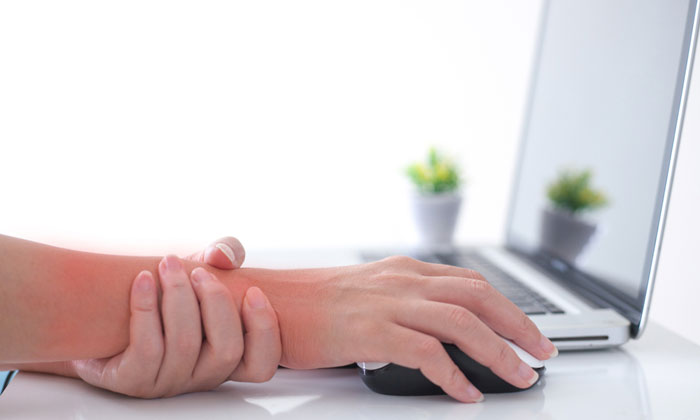 Any patient with a repetitive overuse injury who walks into our clinic will be asked the following question upon evaluation, "What does your work desk set-up look like?"
Countless bouts of thumb tendonitis, back pain, elbow epicondylitis, and other maladies could be avoided if employers only took the time to make basic modifications to computer screens and keyboards. Many employers in recent years are starting to catch on, but on a weekly basis I still gasp in horror at photos that are emailed to me from patients who have impossible work stations. Some work stations that I see look as though the patient is playing a prank on me and purposefully making the positioning as horrid as possible.
I don't get it.
It is in the best interest of any company to have an ideal ergonomic set up for each and every employee. Will this cost a bit more "up front" for a keyboard tray or a sit-to-stand desk? Sure. Will not doing so cost even more over the long-term with increased insurance premiums due to a work force that is using medical care constantly due to overuse strain? My money is on "absolutely."
I often wonder if this phenomenon is a uniquely American thing. American companies are concerned with the short-term, especially companies that answer to Wall Street. Shareholders and CEOs are interested in current profits. Why would we want to invest big money on new keyboard trays? That costs money.
I am willing to bet that actuaries have studied employee overuse injuries. Who knows, perhaps there is data that takes into account the employee's age (young employees can take a beating, therefore they do not need a keyboard tray). Perhaps a company has an average length of employment for office workers that is short enough to allow them to skimp with costs (short-lived employees are rarely with the company long enough to develop physical problems).
My point is this: If your employer drags its feet or outright refuses to make reasonable accommodations for your aching body because you sit at your computer for a zillion hours per week, take your health into your own hands.
Get yourself an adjustable keyboard or one of those pre-assembled high-low work stations that fit right on top of your desk. Get a note from your physical therapist or your doctor with the words "medically necessary" included.
If your employer won't allow you to direct your own sensible ergonomic set-up, maybe you should find a place to work that invests in you. Better yet, get an attorney.