Our willing subject, Janaye, is now approaching two (2) weeks post-operative meniscal transplant surgery (see Part 1). Overall, she is reporting that things are going well. Her pain levels are under control.
Janaye is bored, and rightfully so. Post-operative protocols for this type of surgery are highly restrictive early on. Only partial weight bearing is allowed for at least four weeks with most protocols. Per her MD's protocol, she cannot bear any weight at all through her leg, and she is also restricted to a maximum of ninety (90) degrees of flexion in order to protect the donor tissue. (Meniscal tissue tends to be placed under stress with full flexion of the knee.) As you can see from the photo, ninety degrees is no longer a problem for her.
In terms of physical therapy, Janaye is working on re-educating her quadriceps with "Russian Electrical Stimulation." As with any muscle, the swelling associated with surgery will inevitably shut the muscle down. Electrical stimulation is one way to force the quadriceps to regain contractility.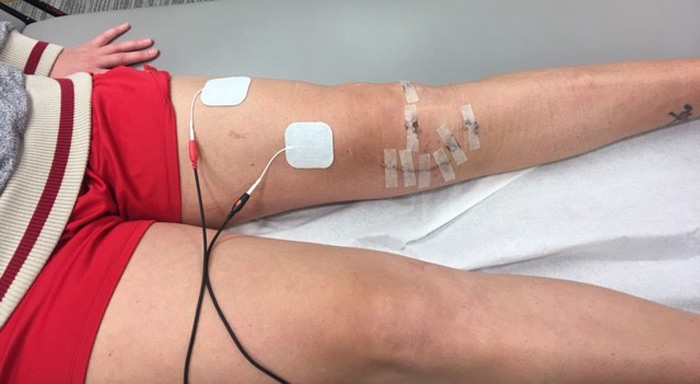 The early portion of rehab is in essence an effort to try to regain some strength and to maintain alignment that might otherwise be lost from her lack of weight bearing. A non-weight bearing status is a necessary evil. Janaye's brand new meniscal tissue needs to heal into place correctly, but the longer that she is not able to bear normal weight through her leg, the more secondary problems will develop. It is not uncommon to see lower back pain, hip pain, and other maladies develop from the forced asymmetry that Janaye is going through.
Continue reading with Part 3.
Read the series:
1. Meniscal Replacement Surgery
2. Meniscal Transplant, Part 2
3. Meniscal Transplant: Janaye Is "Over This"
4. Janaye's Meniscus Transplant Saga Continues
5. Weight Bearing & Dynamic Balance Training
6. Janaye's Final Meniscal Blog Update!