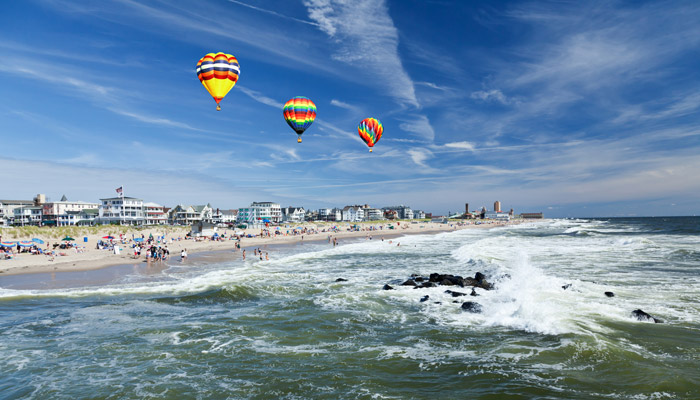 Rehoboth Beach, Delaware, Labor Day weekend 2009 will forever be burned into my memory for two reasons. The first reason is that I almost died. The second reason is that it forced me to look at my body in a way that has directed me in how I treat patients with movement dysfunctions and orthopedic problems.
An explanation is definitely in order.
The day was not as warm as we had hoped for as a small group of friends and I sat on the beach. After a few hours of playing Frisbee and watching volleyball in the direct sun, I was finally breaking a sweat and was motivated to get my feet wet.
For those of us familiar with Rehoboth Beach, the grading of the sand as one walks into the water is strange. There is an immediate – and quite a steep – drop off in depth of the ocean floor. You could be up to your shins in water at one point, and ten feet further out, the water is up to your neck. This makes things potentially dangerous for waders, especially if there is rough surf. On Labor Day 2009, the surf was not quite rough enough for the lifeguards to close the beach, but in retrospect it was a close call. The powers that be probably should have barred people from swimming.
I am a bit of a wimp when it comes to getting my body immersed in cold water. I rarely just "jump in" to a pool. I prefer to walk into the shallow end and slowly get my body acclimated. It annoys many people. At least the ocean works for my philosophy.
As the water was quickly becoming more than waist deep, I used the strategy of floating over the oncoming waves before they crested. This was going very well for a minute or two. I would bob over the oncoming waves and be placed back on my feet.
Suddenly a rather large wave was coming at me. Most of the people around me chose to dive under the wave, a smart move as the wave looked like it was about to break. But not me, of course; I had to keep my hair dry and stick to my philosophy of gradual entry. It crested immediately before I attempted to float over it.
It is hard to describe the amount of force that I felt as the wave hit me. I have never played football, but I imagine getting hit by that wave felt like getting broadsided by a linebacker. It took the breath out of me and threw me violently towards the shore. Time slowed down as my body figured out what to do. I was about to get slammed down into very shallow water headfirst.
Thank God for reflexes. Within half of a second, I instinctively righted my body. That probably saved me from becoming a quadriplegic. From the moment that my body became upright, I had a small amount of time to take voluntary action in terms of how I was going to land on my feet.
This is where things get a bit weird.
I am very, very right leg dominant. For as long as I can remember, my right leg has been larger and stronger. If given a choice, I would much prefer to balance on my right leg, jump off my right leg, land on my right leg, and use my right leg for a million other tasks that are not worth mentioning right now. When my body was confronted with the impending impact, I definitely wanted to brace myself with my right leg.
In the small amount of time that I can remember before making impact with the sand, I willfully spun my body 180 degrees so that my right leg was closer to the shore than the left leg. I knew that I had a better chance of absorbing the impact this way.
Maybe if I had a tiny bit more time to react, things would have turned out better. My right leg was not yet in an ideal position to land when my foot made contact with the sand. I felt a horrible series of snaps as my right ankle turned a full 90 degrees outwards in relation to the rest of my leg. I was thrown down onto my right side as my ankle thankfully snapped back into a neutral position.
The damage was done. There I was, rolling around in two feet of water with a severely fractured lower leg. It took a few minutes for my buddies to realize that I was missing. I spent that time stabilizing my lower leg with my hands as successive waves continued to pound me and roll me around in the surf. I wasn't in any danger of drowning, but there was no way that I was standing up on my own. My friend who scooped me out of the surf commented after the fact that when he first saw me, he thought that I was "trying to be funny and do some lame synchronized swimming routine by myself".
It is worth mentioning at this point that I am intimately aware of how my body works. I have observed patient movements and treated orthopedic conditions (like the one I had just given myself) for over eighteen years. It is what I do for a living. The thing that kept bothering me about my incident is that I willfully chose to turn my body around when I probably would have been better off bracing myself in my original upright position. The bottom line is that I just wanted to take the impact with my right leg despite being grossly out of position. Could have I avoided the multiple fractures that I sustained if I had not turned? I can't be sure, but my guess is yes.
So what did I learn from all of this?
Side dominance is a weird thing. We all have it to a varying degree, some people more than others. I would say that the strength difference between my legs was more profound than in the average person. I cannot help but think that the years of reinforced usage of my right leg in jumping, playing sports, and generally supporting my weight contributed to those strange series of events.
There is a silver lining to what happened to me on that ill-fated Labor Day weekend many years ago. My left leg has become much stronger as a result of the damage to my right leg. I can say with confidence now that I am much more comfortable balancing and generating strength from my left leg than I used to be. It will forever be my goal (and the goal of my many patients) to be as symmetrical as possible in terms of leg stability.
This experience has changed how I evaluate my patients. If there is a notable difference in stability and strength between legs, you can bet that I am going to address that. I do think that we can become better prepared to deal with episodic injuries and falls if we have better symmetry.
Image credits: Top © Gary/Fotolia; Second © Christin Lola/Fotolia.