Our patient and favorite medical exercise trainer has been full weight bearing for several weeks. She reports that her hip and lower back pains are decreasing along with her increased acceptance of weight on the surgical leg. Hooray for symmetry!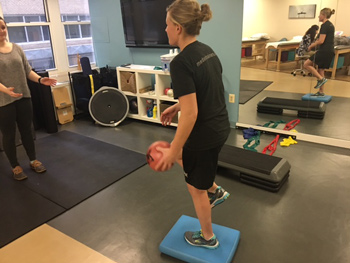 Our PT's have progressed her to some standing dynamic balance activities. In the photo, Janaye is balancing on a foam pad while catching and throwing a ball. In our humble opinions, standing balance as a form of exercise is a great "bang for the buck." When our balance is perturbed, our first righting mechanism comes from the muscles of the ankle and foot. If the balance perturbations are more involved (by adding throwing and catching, for example), the muscles higher up in the chain must kick in to stabilize the leg. This adds a great workout to the muscles of the hip and thigh. Most people will attest to the level of fatigue that comes from something like this that seemingly looks simple.
In terms of Janaye's current feedback, she notes that the graft still does not feel like it entirely belongs to her. She has reported to us on several occasions that it feels as if there is a "block" in her knee. This could be some scar tissue from the procedure, but it is also entirely feasible that this block is in fact the donor meniscal tissue.
Most of our body's physiological tissue has neural connectivity to it, which sends feedback to our brains to let us know how things are going. In the case of Janaye's new meniscus, there is no direct connection of the meniscus to the brain via neuronal connections. The result can be just what Janaye is feeling: a "block" or emptiness that her body has to get used to.
Keep up with the rehab, Janaye! We will keep taking annoying photos of you.
Continue reading about Janaye's progress with the next post: Janaye's Final Meniscal Blog Update!
Read the series:
1. Meniscal Replacement Surgery
2. Meniscal Transplant, Part 2
3. Meniscal Transplant: Janaye Is "Over This"
4. Janaye's Meniscus Transplant Saga Continues
5. Weight Bearing & Dynamic Balance Training
6. Janaye's Final Meniscal Blog Update!