A Continuous Passive Motion machine, or CPM, is sometimes prescribed by surgeons to work on early active range of motion on a given joint following a surgical procedure. Lately, we have seen a few patients here at PhysioDC who have come for post-op knee rehab who have been prescribed a CPM unit for home use.
The million-dollar question in regard to post-operative knee care has always been, "Does a CPM machine provide a significant boost to the range of motion of a post-operative knee?"
The answer appears to be "Not really," HOWEVER, there may be benefits to using a CPM that are not necessarily range-of-motion related.
Let's sort through this…… One benchmark study that I found measured range of motion improvements between two (2) groups of post-operative knee replacement patients. Group #1 received five (5) hours of CPM per day plus physical therapy, while group #2 received only daily physical therapy. Drum roll please……. to quote the article cited below,
"The results indicated no significant difference in passive range of motion between group 1 and group 2. 1."
There are other studies out there that echo the same conclusions.
Well then…. why would a physician prescribe a CPM? The answer may have to do more with preventing other problems that may result from specific post-operative protocols.
To take for example meniscal replacement or meniscal repair surgeries. These specific surgeries involve a significant amount of time (as much as six (6) weeks) when the patient cannot place any weight through the leg onto the ground. I have seen a patient or two in the past who have actually developed blot clots in the effected leg as a result of the lack of weight bearing. In these cases, would it be useful to have the knee ranged through flexion and extension with the CPM? Perhaps yes. Movement in general is a great deterrent for blot clots, and the CPM is just that. The bottom line here is that it is always a good idea to ask your MD or PT about the interventions that are being performed!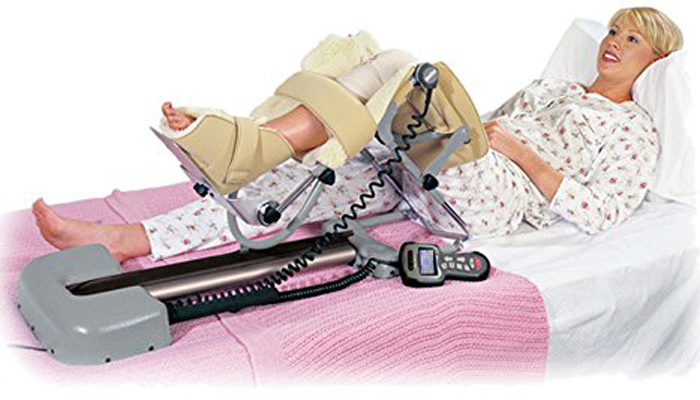 1. Continuous Passive Motion After Total Knee Arthroplasty: A Prospective Study
Chen, Boqing MD, PhD; Zimmerman, Jerald R. MD; Soulen, Leslie PT; DeLisa, Joel A. MD, MS: American Journal of Physical Medicine & Rehabilitation: September-October 2000 – Volume 79 – Issue 5 – p 421-426
Research Article: Physical Therapy