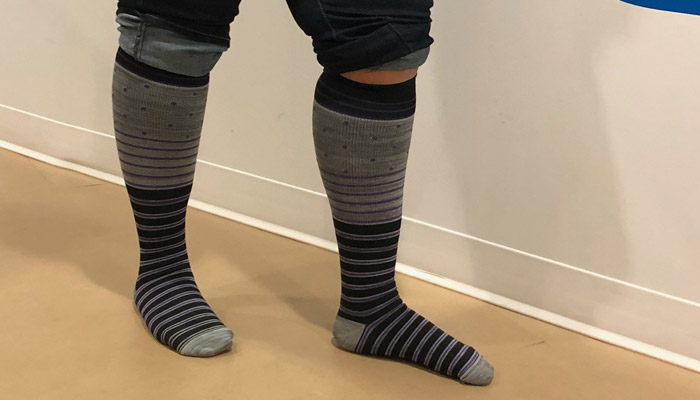 In the past, compression socks or stockings were only seen in the hospital setting or amongst the older population with lymphatic or circulatory problems. They have been known to be white or beige ugly stockings that usually end just below or above the knee. However, due to the practical everyday use of these garments, compression socks and stockings have become quite fashionable in recent years.
Compression socks are great for people who sit or stand stagnantly on their feet for large amounts of their day, such as cashiers, security post officers, and the everyday office worker.
Most people are not fortunate enough to be able to move regularly during the day the way that I do. This means that they are building up fluid in the lower portion of their legs and are inefficiently able to maintain healthy circulation. This is why people will often have some foot/ankle swelling and aches by the end of their workday despite sitting most of the day. Depending on your own personal circulatory efficiency, this does not mean that wearing these compression garments will completely rid you of swelling and pain, but it will likely improve your symptoms.
I was inspired to share this information with the masses while being bored on a 3 hour layover at JFK airport waiting to return to the Washington, DC area after a trip to the countryside of Jamaica. Because I am not used to sitting still for long periods of time, my body is happy to let me know this by giving me some swelling and achiness in my feet and calves. I made the decision, prior to this trip, to purchase some compression socks, and I was so happy to see that I had cute and fun options from which to choose.
One portion of my flight travel was about 4 hours long, which for most people would be fine, but for me that is a long time sitting down. Compression socks should definitely be used for anybody whose flight travel is 6 hours or greater. I probably would have been fine being on an airplane for 4 hours, but I knew that I also had about a 3 hour drive up and down a mountain in a cramped van to look forward to, prior to reaching my final destination.
I was grateful for these compression socks, or I may have spent the rest of that first day trying to recover from mild discomfort and trying to resume normal ankle size by having my feet elevated. Due to the graduated compression of the garments, they are quite comfortable and feel like a hug on my lower legs. I am happy that wearing the compression socks doesn't make me look 30 years older, although if my only option was wearing the old ugly white or beige stockings that you find at the hospital, I'd still wear them and I would suggest that you do too. Compression socks are just one thing that can be done to make the arduous task of traveling more manageable.
Some other orthopaedic tips include the following:
trying to get up to walk to the restroom a few times depending on the length of your flight
performing ankle circles and toe taps, neck stretches, shoulder blade pinches, lower abdominal contractions or gluteal squeezes
using a neck pillow to support neck posture during naps
using a rolled-up blanket or sweater behind the lower back to support the natural curvature of the low back
Always remember that your friendly therapists at PhysioDC are happy to help you if, after travel, you notice achiness or symptoms that don't seem to resolve on their own.