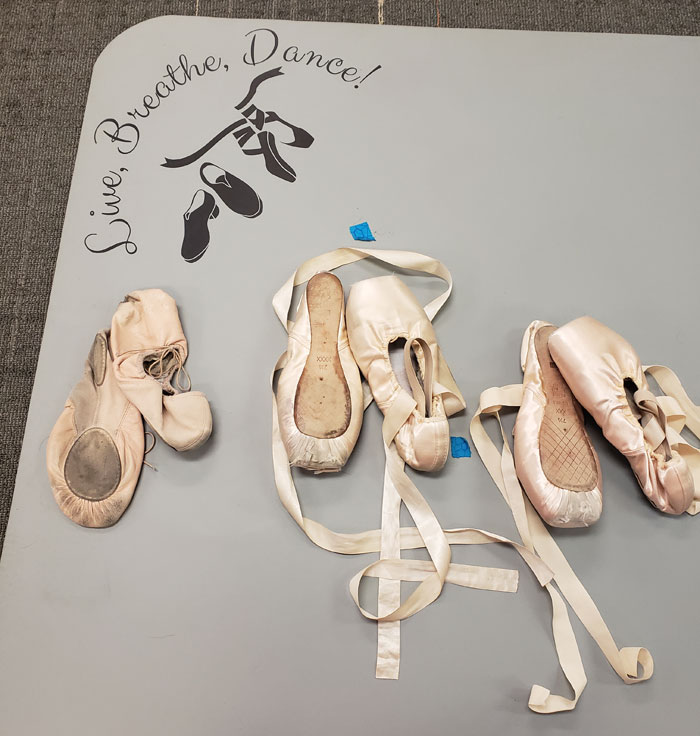 Most people can only imagine how difficult a ballet class is. Then they start to think of ballerinas that they see on the main stage dancing on the tips of their toes in pointe shoes. They start to imagine what type of loopholes these people could have possibly found in Newton's laws of physics to create these feats of athleticism. Yes, ballet is hard, dancing en pointe is also hard, but what seems to sometimes be an exercise in torture is dancing in pointe shoes but not actually ever going en pointe. Unfortunately it's really good for dancers, so let's get to the torture.
The anatomy of a pointe shoe was explained in the previous article Getting en Pointe: For the Progressing Dancer. It basically explains how pointe shoes are much harder than typical ballet slippers. The sole and tips of the shoe – also known as the shank and box – is made of various pieces of combinations of leather, plastic, cardstock, or glued burlap.
The purpose of the hard shank is to support the foot while standing on the tips of the toes. However, it makes standing on the balls of the foot, known as the metatarsals, very difficult. It gives a large amount of increased resistance for this, as well as for just pointing the foot for basic things like tendus.
Another thing one might notice is that this hard shank is not very thin. Because the function that it is supposed to serve, it is rather thick and can make your ankles work rather hard to stabilize even when standing completely flat. Imagine kayaks being on the bottom of your feet. Trying to balance in these shoes, while standing flat on one leg is rather difficult. It requires increased foot intrinsic strength, ankle strength, lower leg strength, increased balance and proprioception. It also forces further core engagement that sometimes gets forgotten about when wearing soft ballet slippers.
Because the box of the shoe is made from similar materials, it is also rather thick. This hard material is stiffer than the shank and can be quite loud when doing things that require bringing your leg back down to the ground, such as battements, landing from jumps, or running. Wearing pointe shoes in class (not necessarily to go en pointe) on a regular basis creates a good practice of trying to make sure that you are engaging certain muscles to try to make landings as soft and quiet as possible.
The practice of taking class en flat but wearing pointe shoes is a good practice for many. It is great for the dancer who is already on pointe, but wanting to spare the tips of her toes for a day. It is wonderful for men, who generally do not dance en pointe unless they are members of the wonderful Les Ballets Trockadero de Monte Carlo company (an all male drag ballet company that does parodies of the classics). And lastly, it's great for young dancers that are preparing to go en pointe. It will increase their strength, balance, proprioception and desensitize their feet so that they get used to the feeling of a hard, rough, and stiff pointe shoe, verses the soft form fitting leather or canvas slipper that they have become accustomed to.
The short videos show the difference in texture and firmness of ballet slippers vs 2 pairs of pointe shoes in differing stages of their life.
In the video of me wearing the various shoes, the articulation of my feet is easily seen in ballet slippers when doing a tendu or elevé. One can see how my foot moves from demi-pointe to pointe. After changing from slippers to pointe shoes, it is apparent that this articulation is more difficult to see and I am trying my hardest.
In the last cut of the video, I have on a newer stiffer pointe shoe on the right foot and the older "dead" pointe shoe on the left that is seen in the middle of the video. Can you see the difference in shoe firmness and my ability to articulate from foot to foot with the different shoes?